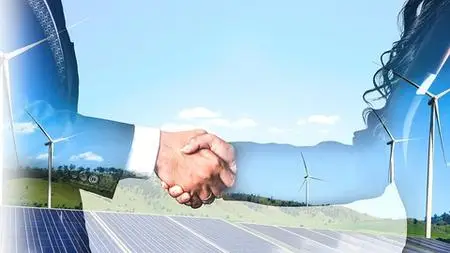 Certified Gri Standards Sustainability Professional (Cgssp)
Last updated 3/2023
MP4 | Video: h264, 1280x720 | Audio: AAC, 44.1 KHz
Language: English | Size: 982.04 MB | Duration: 1h 23m
Learn fundamentals of Universal Standards 101-102-103 & Sector Standards of Global Reporting Initiative (GRI)
What you'll learn
Fundamental of GRI Universal and Sector Standards -updated 2021
Enhance your knowledge and skills needed to use the GRI Standards.
How to write and improve the quality of your sustainability reporting and disclosures.
Case studies of GRI 303 and 403 Standards and standard templates of GRI reporting
Requirements
No pre requisite required
Curious learners who intent to take up GRI or Sustainability as career
Description
Gain a competitive edge by showing your expertise and earning a trusted recognition in sustainability reporting through this professional certification issued directly by GRI, the world's leading standard setter for sustainability disclosure. The GRI Standards are a modular system of interconnected standards. They allow organizations to publicly report the impacts of their activities in a structured way that is transparent to stakeholders and other interested parties. This Short Introduction will: • give new users of the GRI Standards an overview of how the Standards are set up, and equip them to start working with the various elements involved in the reporting process; • be of assistance to experienced users in gaining an understanding of changes in the system and the role of the GRI Sector Standards; and • aid stakeholders and other information users (such as analysts and policymakers) to understand how the reporting process works and what to look for in a report. Three series of Standards support the reporting process: the GRI Topic Standards, each dedicated to a particular topic and listing disclosures relevant to that topic; the GRI Sector Standards, applicable to specific sectors; and the GRI Universal Standards, which apply to all organizations. Using these Standards to determine what topics are material (relevant) to report on helps organizations indicate their contributions – positive or negative – towards sustainable development. Who uses the GRI Standards, and who uses the reported information? Any organization, large or small, public or private, from any sector or location, can use the GRI Standards. Reporters, stakeholders, and other information users draw on the Standards. Reporters within an organization use the Standards to report on the organization's impacts in a credible way that is comparable over time and in relation to other organizations. The Standards also help stakeholders and other information users understand what is expected from an organization to report on and use the information published by organizations in various ways. The organization can use the disclosed information to assess its policies and strategies or to guide decision making, such as setting goals and targets. Stakeholders can also use this information. For example, investors can use the reported information to assess how an organization integrates sustainable development into its strategy to identify financial risks and evaluate its long-term success. The information provided can also help other information users, such as analysts and policymakers in benchmarking and forming policy, and academics in their research. recognized professional development for individuals operating in the sustainability field, with a focus on enhancing knowledge, expertise and skills required to applying the GRI Standards and improving the quality of sustainability reporting.Purpose and system of GRI Standards Purpose of the GRI Standards Through their activities and business relationships, organizations can have an effect on the economy, environment, and people, and in turn make negative or positive contributions to sustainable development. Sustainable development refers to 'development which meets the needs of the present without compromising the ability of future generations to meet their own needs. The objective of sustainability reporting using the GRI Sustainability Reporting Standards (GRI Standards) is to provide transparency on how an organization contributes or aims to contribute to sustainable development. The GRI Standards enable an organization to publicly disclose its most significant impacts on the economy, environment, and people, including impacts on their human rights and how the organization manages these impacts. This enhances transparency on the organization's impacts and increases organizational accountability. The Standards contain disclosures that allow an organization to report information about its impacts consistently and credibly. This enhances the global comparability and quality of reported information on these impacts, which supports information users in making informed assessments and decisions about the organization's impacts and contribution to sustainable development. IIEEL have designed this course Certified GRI Standards Sustainability Professional (CGSSP),after extensive research and compiled these modules aligned to GRI Standard and their modules . The Course covers1. Introduction to GRI Standards2. Understanding GRI Standards and Benefits3. GRI New features in 2021 update4. What is Universal Standards 101, 102, 103 5. Using and Reference of Standards6. Introduction to GRI Sector Standards7. GRI Sector Program8. Sustainability Standard for Oil and Gas Sector9. GRI Tax Standard10. Introducing GRI 303- Water and Effluent Standards11. Introducing GRI 403- Occupational Health and Safety StandardsThis course provides as a recognized professional development curriculum for individuals operating in the sustainability field, with a focus on enhancing knowledge, expertise and skills required to applying the GRI Standards and improving the quality of sustainability reporting.
Overview
Section 1: Introduction
Lecture 1 GRI Standards Introduction
Section 2: Understanding GRI Sustainability Standards
Lecture 2 Understanding GRI Standards and Benefits
Lecture 3 GRI New features
Lecture 4 What is GRI Universal Standards ?
Lecture 5 Using and Referencing of Standards
Section 3: Understanding GRI Sector Standards
Lecture 6 Introduction to GRI Sector Standards
Lecture 7 GRI Sector Program
Lecture 8 Oil and Gas GRI Sustainability Standards
Section 4: GRI Useful Sample Case Studies
Lecture 9 GRI Tax Standard
Lecture 10 GRI 303 Introduction - Water and Effluent Standards
Lecture 11 GRI 403 Introduction - Occupational Health and Safety
All professionals who work for CEO or CFO to prepare sustainability report,Graduates of Environment Engineering or HSE professionals working on sustainability