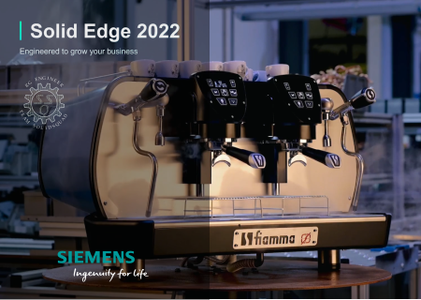 Siemens Solid Edge 2022 | 7.0 Gb
Languages Supported: 中文 (Simplified), 中文 (Traditional), Čeština, English, Français, Deutsch,
Magyar, Italiano, 日本語, 한국어, Polski, Português-Brazilian, Русский, Español
Updated: Fixed licensing of standard parts
Siemens Digital Industries Software released the 2022 version of Solid Edge software, which brings embedded rules-based design automation, greater capabilities to work with point-cloud, mesh and imported data without the need for translation alongside new tools to for 2.5 axis machining and ultra-efficient upfront fluid flow simulation.
Highlights for Solid Edge 2022 include:
The new embedded Solid Edge Design Configurator adds rule-based automation and enables quick customization of products based on design parameters and rules, saving time and enabling the capture and reuse of intellectual property in intelligent models.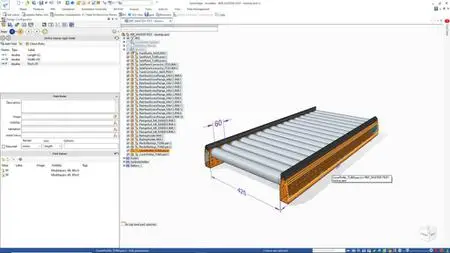 CAM Pro 2.5 Axis milling is now included in Solid Edge Classic, Foundation and Premium for customers with active maintenance. Fully integrated, it maintains full associativity with design data and provides automated tool path creation combined with machining simulation to help achieve optimized machining operations.
New CAD Direct capabilities allow insertion of third-party data formats without the need for translation while maintaining associativity. Solid Edge 2022 continues to integrate Siemens' leading Convergent modeling technology, allowing users to mix b-rep and mesh geometries in the same model, again without conversion, making mesh data more useful and reducing product modelling time. Full-color point cloud data can also now be used for visualization purposes directly within Solid Edge, especially useful when retrofitting factories or plants, allowing the positioning of design equipment in the context of the point clouds.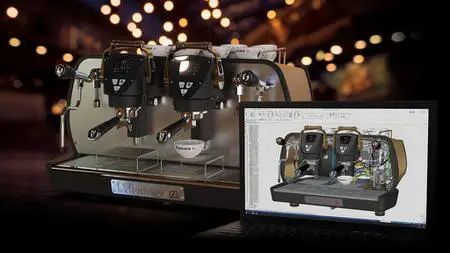 Solid Edge 2022 is available through Xcelerator as a Service, providing access to Siemens' next-generation, cloud-based collaboration solution including Xcelerator Share, that brings design-focused capabilities (such as 3D/2D CAD view/markup), augmented reality and secure project-based sharing to the Solid Edge community.
Assembly modeling is a constant focus and the 2022 release of Solid Edge delivers the third straight release of improvement. The new Assembly preview mode reduces the amount of data that is loaded, while the multi-body assembly modeling mode is a new environment to model internal components within an assembly file. When it comes to locating those hard-to-find parts, the new component finder puts intuitive search at the fingertips with auto-complete suggestive filters.
Finally, Solid Edge 2022 introduces Simcenter Flomaster for Solid Edge software, which brings easy analysis of fluid and thermal flows in piping systems. System-level models are extracted from 3D models (reducing preparation time by up to 90 percent). Built-in wizards guide new users towards successful results while retaining advanced capabilities, such as simulation of rapid dynamic events and pressure surge, for experienced users.
NEW in Solid Edge 2022: Assembly & Part Modeling
NEW in Solid Edge 2022: Technical Publications
NEW in Solid Edge 2022: Next-Generation Capabilities
NEW in Solid Edge 2022: Design Configurator
NEW in Solid Edge 2022: Data Management
NEW in Solid Edge 2022: Simulation
NEW in Solid Edge 2022: Xcelerator Share in Solid Edge
NEW in Solid Edge 2022: Simcenter Flomaster for Solid Edge
NEW in Solid Edge 2022: Computer-Aided Manufacturing (CAM)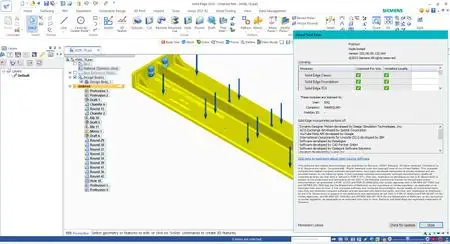 Solid Edge
is a complete 3D CAD system that uses Siemens Synchronous Technology for accelerated design, faster revisions, and better imported re-use that helps companies design smarter.
The Solid Edge portfolio is an integrated set of powerful, comprehensive, and accessible tools that advance all aspects of the product development process. Solid Edge addresses today's complexity challenges with automated digital solutions that cultivate creativity and collaboration. By harnessing the latest innovative technologies in mechanical and electrical design, simulation, manufacturing, publications, data management and cloud-based collaboration, using Solid Edge dramatically shortens time-to-market, provides greater production flexibility, and significantly reduces costs with its collaborative and scalable solutions.
Packed with more than 500 new features and enhancements, Solid Edge 2022 is engineered to grow your business – supporting modern product development processes, allowing you to do more with your resources and enabling new ways of working. New features and enhancements in this release are engineered in response to feedback received directly from Solid Edge users, making this one of the most exciting releases yet.
Introducing Solid Edge 2022 — Engineered to grow your business | Launch Event
The next evolution of Solid Edge is here. Be among the first to experience what's new in Solid Edge 2022.
Siemens Digital Industries (DI)
is an innovation leader in automation and digitalization. Closely collaborating with partners and customers, DI drives the digital transformation in the process and discrete industries. With its Digital Enterprise portfolio, DI provides companies of all sizes with an end-to-end set of products, solutions and services to integrate and digitalize the entire value chain. Optimized for the specific needs of each industry, DI's unique portfolio supports customers to achieve greater productivity and flexibility. DI is constantly adding innovations to its portfolio to integrate cutting-edge future technologies. Siemens Digital Industries has its global headquarters in Nuremberg, Germany, and has around 75,000 employees internationally.
Product:
Siemens Solid Edge
Version:
2021 build 222.00.00.132 *
Supported Architectures:
x64
Website Home Page :
www.plm.automation.siemens.com
Languages Supported:
multilanguage
System Requirements:
PC **
Size:
7.0 Gb
Solid.Edge.2022.iso
Solid.Edge.2022.Electrode.Design.Plugin.English.iso
Solid.Edge.2022.Mold.Tooling.Plugin.English.iso
Solid.Edge.2022.Standard.Parts.Adninistrator.English.iso
Solid.Edge.2022.Standard.Parts.Libraries.iso
Operating system requirements and information
Solid Edge 2022 has been certified to run on the following:
- Windows 10 Enterprise or Professional (64-bit only) version 1909 or later
- Internet Explorer 11
- Solid Edge, while not dependent on any other browser, has been certified against other modern and popular browsers like Google Chrome, Microsoft Edge, and Mozilla Firefox.
- Microsoft Office 2019 or Microsoft Office 365 Business.
Note
- Support for Windows 11 will be announced in a Solid Edge 2022 maintenance pack.
- Windows Home Edition is not supported.
- We recommend that you not run Solid Edge on Server operating systems.
- Solid Edge stops certifying new releases against an operating system shortly after Microsoft drops mainstream support for it. Microsoft dropped mainstream support for Windows 7 in January 2015. Microsoft dropped mainstream support for Windows 8.1 in January 2018. As a result, Solid Edge no longer installs on Windows 7 or Windows 8.1.

Hardware system requirements

Recommended system configuration
- Windows 10 Enterprise or Professional (64-bit only) version 1909 or later
- 32 GB RAM or more
- True Color (32-bit) or 16 million colors (24-bit)
- Screen Resolution: 1920 x 1080
Minimum system configuration
- Windows 10 Enterprise or Professional (64-bit only) version 1909 or later
- 16 GB RAM for commercial users and 8 GB RAM for academic users
- 65K Colors
- Screen Resolution: 1920 x 1080
- 7.5 GB of disk space required for installation
Reboot your system after installing Solid Edge or maintenance packs.

Display system requirements and information
For optimal performance, use a professional graphics card designed for CAD applications. For information about cards used in testing Solid Edge and results, see the Graphics Card Certification Matrix on the Support Center Hardware and Software Certifications website.
Note :At least a 2GB graphic card is recommended when working with large assemblies or complex parts.
Running with extremely high screen resolution and color depth increases the memory requirements on the system and may result in apparent performance degradation. For improved performance, lower the resolution and color depth.
When running Solid Edge, if you experience an abnormally high abort rate, parts disappearing, or other graphic anomalies, you may not be using the appropriate graphics driver. For details, see the Hardware and Software Certifications page of the Support Center website.
Also, setting Display Fonts to Large Fonts or Extra-Large Fonts (larger than 96 DPI) may cause some Solid Edge user interface items to not display as intended. To resolve these issues, use Normal Fonts (96 DPI).
Solid Edge uses a widescreen ribbon layout. This ribbon layout is optimal for horizontal screen resolutions set to 1920 or above. Solid Edge automatically detects your resolution and sets the ribbon layout to widescreen starting at horizontal resolutions 1600 and above. Some groups collapse on the right side of the ribbon with resolutions between 1600 and 1920.

Additional Information

Support for High-resolution Monitors
Solid Edge 2022 includes support for bitmaps, controls, and other graphic elements displayed on high-resolution monitors (monitors with resolution greater than 3500 pixels).
When you use a monitor with DPI greater than 170 pixels, we recommend you adjust settings in two locations:
- Set the primary DPI scaling resolution for the entire desktop using the Microsoft Windows Control Panel.
- Adjust the relative sizing of Solid Edge design tools on the Helpers tab in the Solid Edge Options dialog box.
Please visit my blog
Added by 3% of the overall size of the archive of information for the restoration

No mirrors please