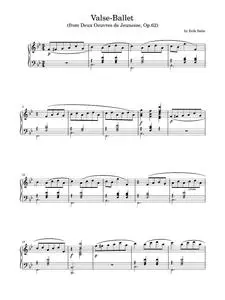 Valse-Ballet, Op. 62 - Erik Satie (Piano Solo)
English | 4 pages | PDF | 3.2 MB
This sheet notes file contains Erik Satie's Valse-Ballet, Op. 62, a piano solo work taken from his collection of two early works Op. 62. This piece consists of 96 measures set in the keys of B♭ Major and G Minor. It is an essential piece for all classical piano enthusiasts, written by the renowned composer Erik Satie.