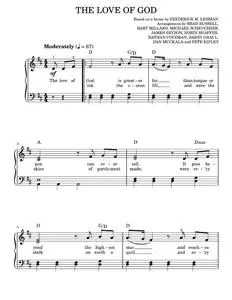 The love of god - MercyMe (Easy Piano)
English | 5 pages | PDF | 4.3 MB
This sheet music contains five pages of easy piano arrangements of the song 'The Love of God' by MercyMe. It is based on a hymn by Frederick M. Lehman and arranged by Brad Russell, Bart Millard, Michael Scheuchzer, James Bryson, Robin Shaffer, Nathan Cochran, Barry Graul, Dan Muckala, and Pete Kipley. It is written in D major and B minor and consists of 43 measures.