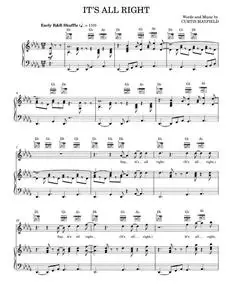 It's All Right - Curtis Mayfield (Piano-Vocal-Guitar)
English | 5 pages | PDF | 4.3 MB
This sheetnotes file contains a Piano-Vocal-Guitar arrangement of Curtis Mayfield's song "It's All Right". It is comprised of 5 pages, with 55 measures of music composed by Curtis Mayfield in the keys of D♭ major and B♭ minor. This sheetnotes file is perfect for vocalists and instrumentalists looking to learn and perform the song.